GLOBAL TEA BREAK DATES FOR 2023
Put these dates in your diary for 2023 and let's make this year awesome
The Global Tea Break is here to support all our members and we would be delighted to hear from you and help you to connect worldwide.  Community is everything to us and we want you to be part of this global network.
_______________________________________________________________________________________________________
New Once Off Way To Register For The Global Tea Break
We have been work on new systems for registration to our monthly
Global Tea Break meetings that are held the third Friday of every month at 7am PST 10am EST and 3pm GMT.
We have developed a new Booking Registration System where you only have to register once and you will receive a notification reminder the day before each networking meeting.
It is so easy to register now just click on the button below and it will bring you to a landing page, just enter your Name and Email Address and click on the "RESERVE MY SPOT" Blue Button.
You will receive an email into your inbox with details attached asking you to check your email for information on how to access the webinar/meeting and to make sure to add this event to your calendar. 
Please see the example below for more details and we look forward to seeing each month at the Global Tea Break.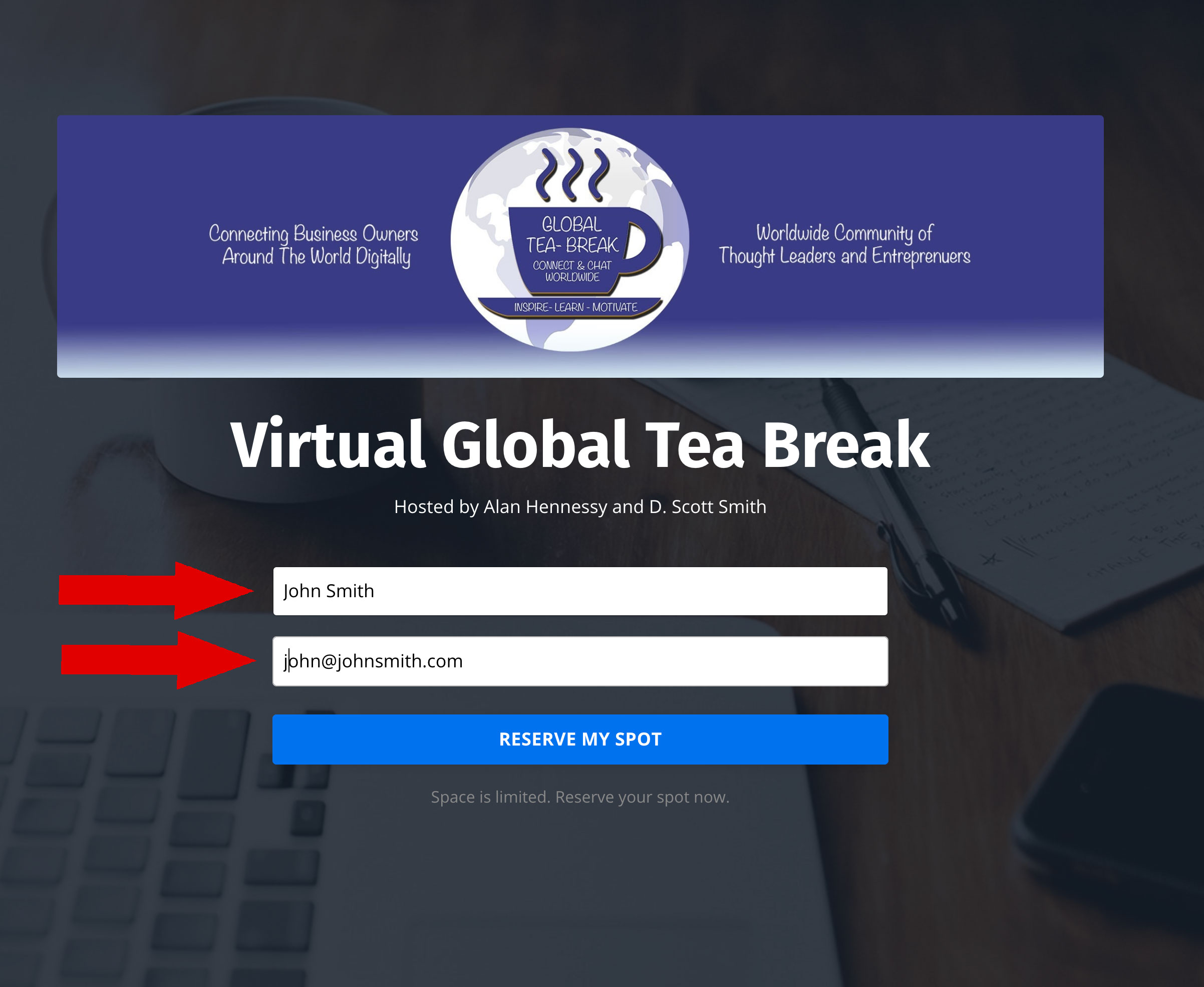 2023 FULL LIST OF DATES FOR THE GLOBAL TEA BREAK
January: Friday 20th
February: Friday 17th
March: Friday: 17th
April: Friday 21st
May: Friday 19th
June: Friday 16th
July: Friday 21st
August: Friday 18th
September: Friday 15th
October: Friday 20th
November: Friday 17th
December: Friday 15th
Our World Our Community
The world will emerge from the global pandemic, not because of government intervention, but because of your entrepreneurial spirit. The community of people in the Virtual Global Tea Break is growing. Join us each month for ninety minutes of connection and inspiration. We extend our reach when we meet; we grow our power when we become a community.